Dust Free Tile Removal Services in Las Vegas, Nevada
Are you considering investing in tile removal for your Las Vegas, Nevada home or commercial property? Before you take the next step and book the job make sure you are familiar with the different methods that are available in your city. DustRam® contractors are the only ones that offer a truly dust-free tile removal service. Our contractors use the DustRam® system to capture the dust and leave your property cleaner than it was upon arrival. Don't settle for traditional or virtually dust free methods that expose you to the dust! Hire DustRam® for the job and choose the best quality in the industry.
Hours of Operation:
Monday – Friday: 7 AM to 4 PM
Saturday – Sunday: Closed
Choose a DustRam® Certified Contractor for the Best Services & Results
Watch our system and contractors at work. See how we chip the tile and capture the dust with our patented vacuums the moment it is created.
DustRam® – Invented the Dust Free Flooring Removal Method
Don't become a victim of crystalline silica dust from flooring removal. Inhalation and exposure to tile dust have been linked to serious respiratory diseases such as lung cancer and Silicosis. Outdated flooring removal methods such as traditional and virtually dust-free are not truly dustless processes since they release dust back into the home. These two methods do not capture enough dust to consider them truly dust-free and they expose you to the carcinogenic tile dust. Make sure the contractor you book for the job is DustRam® certified. Only then will you know that your air quality will not be compromised by contractors using outdated technology and equipment. Don't put your health at risk in an attempt to save more money in the short term. Long-term costs are inevitably higher when you choose outdated methods!
DustRam® is the inventing company of dust-free tile removal and has perfected the entire process since its inception in 2008. The patented DustRam® system and vacuums capture 99.97% of crystalline silica keeping you and your loved ones safe from exposure. Our system includes 24 patented pieces of tools and equipment that work together to remove your tile better, faster, and cleaner than any other system in existence. Our system removes ceramic tile, hardwood, glues, adhesives, thin-set, carpet, tub surround, Saltillo tile, natural stone, and much more. Contact our team today to get a free project quote or to speak with an expert.
Our System Captures 99.97% of the Dust from a Tile Removal
Did you know that silica dust pervades your home with the use of virtually dust-free and traditional methods? The dust will land inside your pantry, all over your food, inside the cabinets, and all through your clothes, shoes, ceilings, fans, and other belongings. Silica dust is extremely hard to get rid of because of its microscopic size. One single dust particle is exactly 100 times smaller than an individual grain of beach sand. Each square foot of tile creates 1 pound of dust when it is chipped and removed. The average tile removal is 600 square feet in size which means 600 pounds of dust are produced in your home. Imagine hundreds of pounds of dust getting released back into your home and flowing through the vents. Most homeowners are unaware of the long-term costs associated with outdated methods. Several professional cleanings will be necessary to capture the dust and this process of dust removal can take months to years. The average cleaning session costs about $500 and will end up costing you thousands overall. Not to mention the costs associated with your health.
DustRam® has certified contractors all over the nation. Find a professional dust-free tile removal company near you!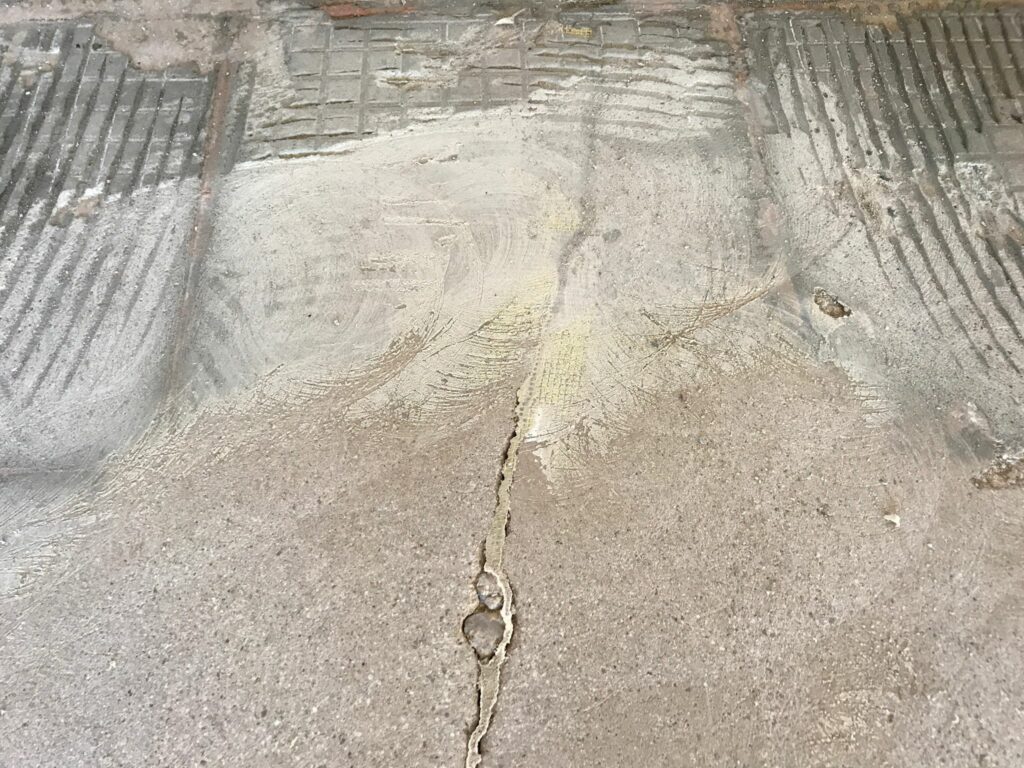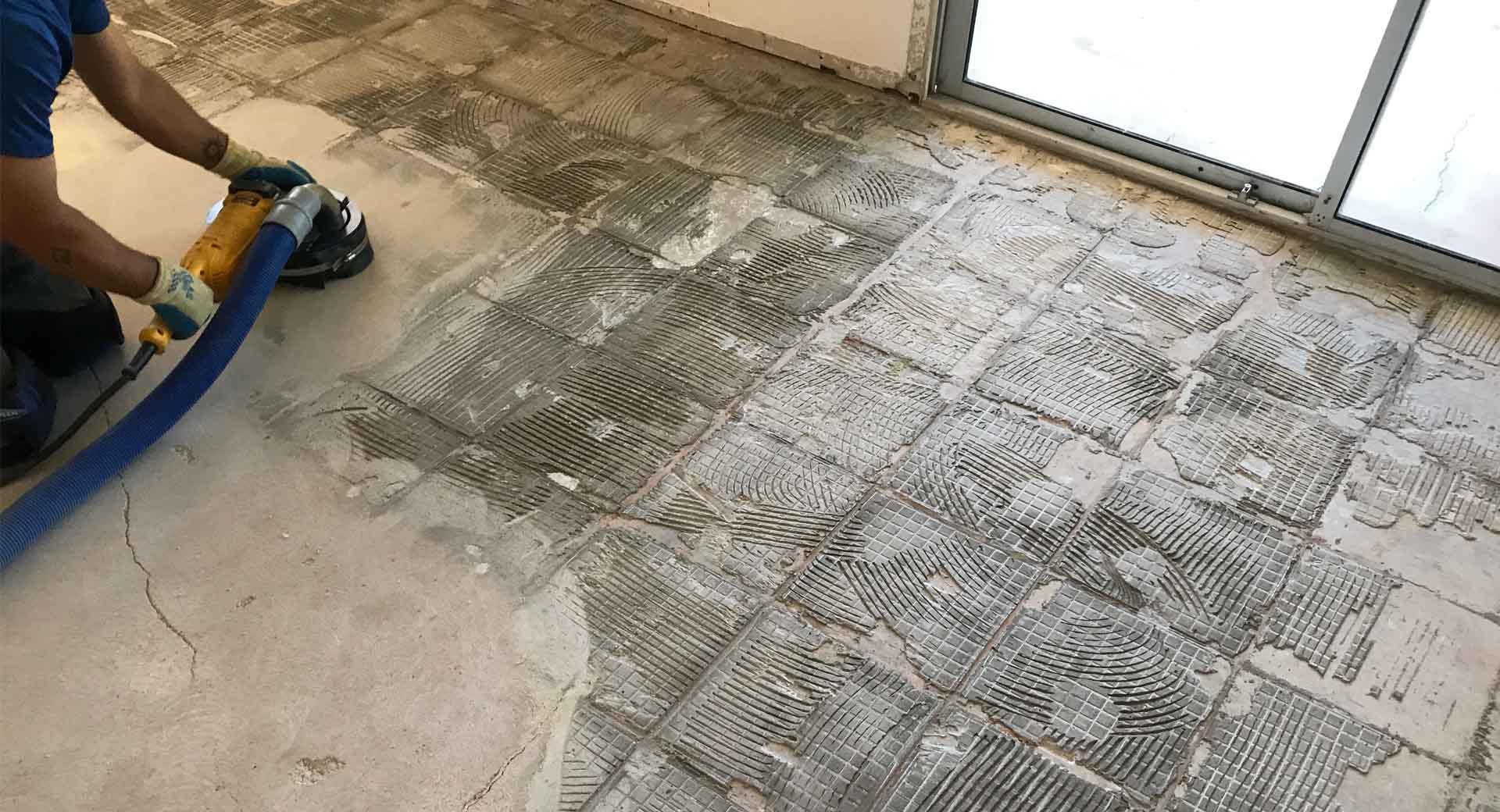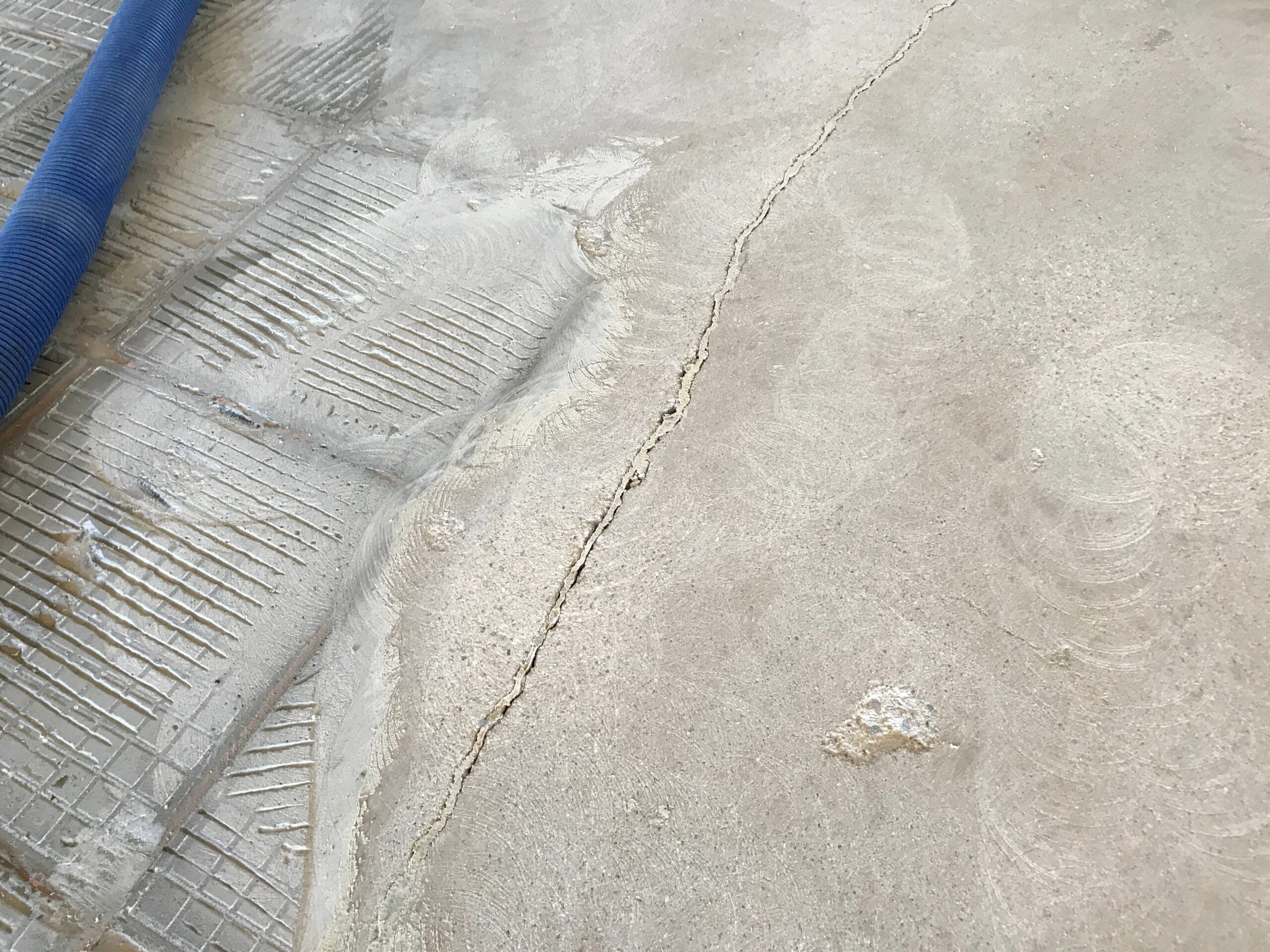 Our System Leaves the Concrete Subfloor Ready for Install
The DustRam® system is a comprehensive system of 24 patented parts that remove tile floor cleaner and more efficiently. The patented vacuum known as the PulseRam® is a key part of the system that sucks up tile dust the moment it is created. The vacuum is made especially for dustless flooring removal and is rated at 310 cubic square feet per minute. With the PulseRam®, our system will capture 99.97% of silica dust produced during the tile chipping process. DustRam® is a one-of-a-kind system built to capture and contain dust particles .3 microns in size and larger. One single strand of human hair is between 60-80 microns. That is how efficient and effective the DustRam® is. Quality is our mission and the entire system has been engineered and perfected for decades. DustRam® contractors will grind down the thinset down to the concrete slab and scarify the subfloor leaving it in ideal condition for the installation process. The scarification throughout the concrete makes it easier for the new floor to bond to the slab, leaving you with a better overall result. The smoothness and flatness of the subfloor are vitally important when you are laying down the new floor. If the subfloor is uneven then this will greatly impact the quality of the floor installation and bring you many problems in the future to come.
DustRam® contractors perform and provide the best quality services and work in the entire industry. As the inventor of dust free tile removal, providing each customer with top-notch and top-rated work is our only goal. Contact our team today for more questions about the dust free process.
Below are different flooring materials that we can remove dust free:
Now that you know more about our company and have a better idea of how our process works, we encourage you to reach out to our team with any questions, comments, or concerns you may have. If you are interested in learning more about our dustless flooring removal services in Las Vegas, please check out our videos with past projects.
Learn More About the Dustless Tile Removal Process